Why Do I Even Bother Going To Stores Anymore?
on
March 30, 2011
at
12:00 am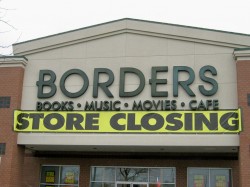 This past weekend, my wife and I passed by our local Borders bookstore, and saw that they were having a store closing sale 20-40% off. I had heard about Borders recent bankrupcy filing and knew that they would be closing stores throughout the country, and I had finally stumbled upon a wonderful sale…or so I thought.
We turned the car around and raced into the parking lot. When we got into the store, it was bustling, but not crowded, and definitely not a madhouse. I then looked at the terms of the sale. Books – 20% off, Cookbooks – 10%, Games – 20%, DVD's – 20%, Blu-Rays – 30%, Magazines – 40%, and so on. My initial excitement over this sale started to fade.
I could get all this stuff cheaper online.
It's true, most of these items are roughly 30% off everyday at Amazon.com. There are many other online retailers that provide similar everyday discounts. All I could do was roam the store casually looking at items I wanted to buy, but holding off because I didn't want to pay the extra $5 – 10 plus sales tax.
I then started thinking about the whole retail operation. From what little I understand about items like books, music, movies, games, and magazines, the retailers purchase them wholesale for roughly 30 – 40% off the cover price. Then then retailer turns around and sells for cover price to make a healthy profit. This is why most new books are "20% off" at many retailers. They know they need to push the new items, and what better way to do so than to give the customer a perceived "deal."
I have no qualms with this system because that's how it has worked for decades. You see, the retailer is doing us a huge service, and we should pay for that serv–
Wait. No, that's not right.
They're not doing us a service anymore. Someone on the Internet came along and provided a better business model that provides low costs to me, the consumer. Online retailers don't have the overhead costs of running hundreds of stores across the country and can charge much less than cover price or MSRP (Manufacturers Suggested Retail Price).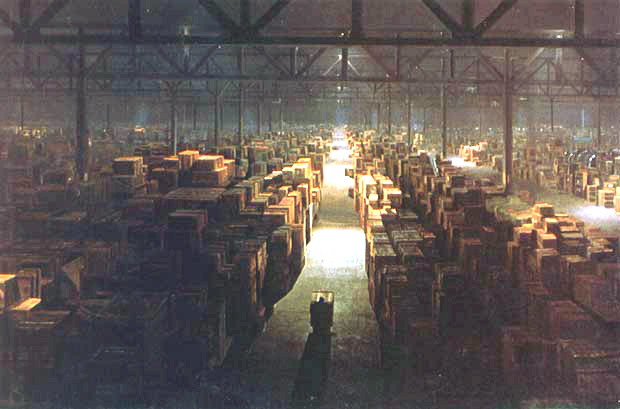 I imagine these online retailers just have a huge warehouse like in Raiders of the Lost Ark, where my Walking Dead graphic novel gets pulled off the shelf next to the Ark of the Covenant and shipped to me free with Super Saver Shipping 🙂
I actually went in to Fry's Electronics two weeks ago to purchase an Over-The-Air Antenna for my TV (we cancelled Cable remember), and they had employees handing out flyers explicitly stating that they would match any online price. I found that odd. Would they really match online prices? Sure enough, they matched the Amazon.com price for my antenna and I saved $30.
It's actually a good business policy for them. Sure a lot of people will force them to match a ridiculous online price, but a lot more people won't care, notice, or try, and they'll make full profit off of those people. In essence, they're catering to the Internet crowd, while not alienating the "regular" crowd. I don't know how long that policy will keep them afloat, but it's a decent strategy.
All that being said, why do I even go to retail store locations for my books, movies, and other media anymore? Last year, I made this post indicating my anger when a store offers to order me an item to pick up in the store later. What a stupid idea from a customer standpoint. I can easily stand there and order the same item on my phone and have it delivered to my house.
I know why I still go to stores. It's a habit. When I have a little time to kill, I habitually go to Borders, Barnes & Noble, or Best Buy and browse. Like I used to. When I used to by a ton of movies, books, and magazines. Like a dummy. That was before I realized I didn't need to "own" everything.
Unfortunately, now going to those stores just makes me angry. Books, movies, graphic novels, and video games can all be bought cheaper online. Magazine articles will be on they Internet in a few months when they publish the next issue. Sure it's fun to hold, inspect, and "try-before-you-buy," but really, with customer reviews, word of mouth, and personal interests, everything really is a click away online.
I was fooled by a Sale sign to go into a bookstore with hope and joy only to leave unhappy and unfulfilled. When all along I should've listened to my mother who once told me, "A sale's never worth it unless it get's to 50% off. And even then I try to wait till it's 75%."