What's Friday's Entertainment – 4-15-2011
on
April 15, 2011
at
12:00 am
Our Friday Blog segment "What's Friday's Entertainment" continues. As is the custom, we will look at 1) What movies are coming out, 2) What movies are tops in the box office, 3) What DVD/Blu-Ray might be better, or 4) a Wildcard of my choosing.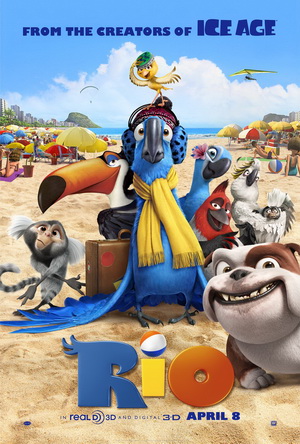 1) What movies are coming out?
2) What's tops at the box office?
Hop
Arthur
Hanna
Soul Surfer
Insidious
3) What DVD/Blu-Ray might be better?
4) Wildcard!
So we've got some limited choices this weekend with only two new movies coming out. Sure last week's movies will still be in theaters, and I still wouldn't mind seeing Hannah and Your Highness, but I'm feeling a little lack-luster about this week.
In Scream 4 and Rio, we have a horror sequel and a non-pixar CG animated film. Those are not good credentials.
Monday we took a look at why no one will go see Scream 4, but Rio is a different story. Sure it could be fun, but I'll relay something I heard this week in regard to what makes a Pixar movie better than a non-Pixar CG animated movie. Pixar makes movies that are timeless and don't require A-List stars. Non-Pixar movies go for the latest pop-culture joke and try to force whoever is "hot" into lead roles. There are a ton of other differences, but that's a good way to put it.
Because this week's new releases seem weak, I suggest renting better counterparts in either the original Scream or Finding Nemo, a Pixar movie.
If you missed a movie you wanted to see last week, then by all means check one out, but don't forget that Federal Income Taxes are due in the U.S. this weekend. Due to a D.C. holiday, we have until April 18th, so if you're still procrastinating, you'd better get on it.