What's Friday's Entertainment – 05.06.11
on
May 6, 2011
at
12:02 am
"What's Friday's Entertainment" continues! As is the custom, we will look at 1) What movies are coming out, 2) What movies are tops in the box office, 3) What DVD/Blu-Ray might be better, or 4) a Wildcard of my choosing.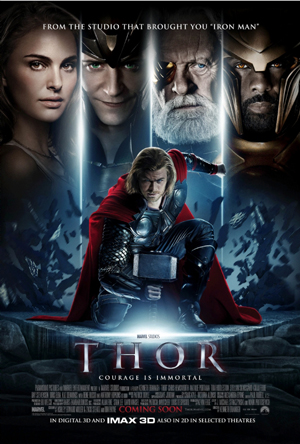 1) What movies are coming out?
Thor
Something Borrowed
Jumping The Broom
2) What's tops at the box office?
Fast Five
Rio
Madea's Big Happy Family
Water For Elephants
Prom
3) What DVD/Blu-Ray might be better?
4) Wildcard!
I'm sorry folks, but there's only one choice you have to make this weekend, and that's whether you go see Thor on Friday night, or you wait to see it on Saturday which is Free Comic Book Day.
Let me back up and explain.
In case you haven't caught this weeks comics, Thor comes out this week. What is Thor? Thor is a comic published by Marvel Comics that takes the Norse God of Thunder of the same name and fits him into the Marvel superhero universe. In the comic, Thor's father casts him out of the realm of the Gods to live as a human, though he finds that he can turn into Thor at will later on.
Thor was never a comic I read. I preferred traditional superheroes and even moreso, mutants. Thor brought in mythology, which I didn't cling to as a kid.
So why am I excited about the Thor movie?
The main reason is that Marvel has finally done what they should've done all along and are building movie franchises that intermingle in what is called the Marvel Cinematic Universe. In the comics, Spider-man, the X-Men, The Fantastic Four, Iron Man, Hulk, Captain America, and Thor all cross each others paths and know of each other. With the movies Iron Man, Iron Man 2, and The Incredible Hulk, Marvel has started intermingling and mentioning the characters in each of the movies. As we've come to find out, this is part of a planned multi-movie crossover. This year, we will see Thor and Captain America: The First Avenger, and then there is a planned Avengers movie next year along with Iron Man 3, and other possibilities.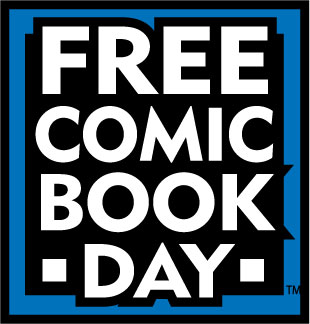 The other reason I'm excited is that these aren't half-ass attempts. Robert Downey
Jr., Ed Norton (replaced by Mark Ruffalo), Samuel L. Jackson, Natalie Portman, and  Anthony Hopkins aren't some chump actors you pick up off the street. And yes, big name actors do not a great movie make, but when you add directors like Jon Favreau, Kenneth Branagh, and geek-favorite Joss Whedon, these movies are in good hands.
As a sidenote, I went to a comic book store last Tuesday and there was a quintessential Comic Book Guy (a la The Simpsons) who was super critical of the Thor movie in a "Worst movie ever" sort of way. To that I say, "Whatever dude." This is a movie about gods in a superhero world directed by Kenneth Branagh. I'm expecting big things. Get over yourself.
The other great thing happening the week is Free Comic Book Day. (Technically it's Saturday.) What is Free Comic Book Day? Well, it's exactly what it sounds like. You go to a local comic shop, and they have a large selection of free comics. Many comic shops pair this day with a sale, a book signing, or some snacks and giveaways. Basically, it's a way to generate buzz and business for the comic book industry.
If you want more information on Free Comic Book Day, please go the website to see what freebies should be available and where your nearest participating comic shop is.
I for one will be hitting up no less than three comic shops in the Houston-area before going to see a matinee showing of Thor.
What a fun weekend coming up!